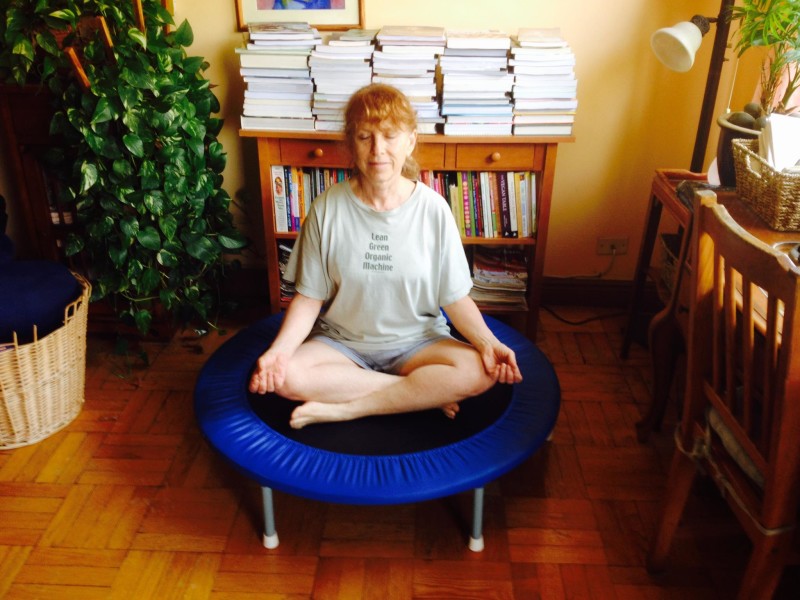 For years I had one of those mini-trampolines in our little one-bedroom apartment here in Queens. Caryn used to sit on it in lotus position and meditate. She looked like a yogi figurine by Lladro. I found the mini-trampoline on the street outside our building not long after I moved to New York City in April of 2008. Hey, what month is this? Wow. Happy Anniversary to me. Whoopty friggin' do. Who'd a thought I'd be living in New York City for twelve years?
I was so over New York after my first love affair with the City ended abruptly in 1982. I lived in a basement studio apartment on 92nd between Columbus and Amsterdam. Just me and the cockroaches who lived in the folded shopping bags between the refrigerator and the wall. I remember the first time I pulled out one of those bags to line the garbage pail beneath the sink, it was from Barney's Department Store, I loved Barney's. I opened it with a flourish like a checker in a grocery store, and immediately saw what I thought was black rice scatter all over the kitchen floor. Then the rice started moving. And then I started jumping and screaming, "Cockroaches! Cockroaches! Cockroaches!" While doing that folk dance we learned in elementary school.
Oh, and Augie Amato lived with the cockroaches and me for a little while, too. Before he sublet his own two-bedroom on 81st and Broadway. One of the larger roaches used to love to sleep with Augie. He'd perch his shiny body on Augie's big toe while he slept on the futon and snored. Augie snored, not the cockroach. The cockroach was wide awake watching me in my boxer shorts and cowboy boots stomping his brothers and sisters throughout the night. Meanwhile… Augie soundly slept.
When my sublet was up I said goodbye to the cockroaches and moved in with Augie.
Augie was my friend. My brother. His mother swore we were related so we'd say we were cousins. Augie passed away in 2014. He was too young to die. But while he lived he lived large. One of his favorite quotes was by David O'Selznick: "There are only two kinds of class. First class and no class!" That pretty much sums up Augie's philosophy.
For example, when I first moved to New York in '82, Augie flew out too and got a suite at the Waldorf Astoria. So, I stayed there until moving to my sublet on 92nd. After a couple of weeks at the Waldorf, Augie said he wanted to stay in the City, too, so he moved in with me until his sublet became available on 82nd.
Augie's sublet was on the 4th floor in a gorgeous brownstone. It was owned by an opera singer on tour. It was spotless. I never saw a cockroach when I was there. The owner had put boric acid in all the corners and cracks. It got great light and had lots of space. And air-conditioning.
It was during the summer and I remember World Cup Soccer was always on the little transistor radio glued to Augie's right ear. He was cheering on the Italians, of course. He'd love it when the announcer would holler, "Goooooooal, Rossi!" Sports were a big part of Augie's life.
Mornings would find a shirtless Augie sitting at the kitchen table with his little transistor radio in one hand, a cup of coffee in the other, the sports section of the Times unfurled on the table, and the TV blasting the baseball games. He'd see me having just rolled out of bed and say, "Thank God you're still alive, now we can go to breakfast." When I wasn't auditioning or rehearsing or working at the muffin shop near Lincoln Center, I was living large with Augie and his wide, wide world of sports.
His lover was the theatre which was my lover, too. There was never any jealousy, though. We used to like to talk about how we were going to change the theatre over breakfast at the Bagel Nosh down the street. Our plan was to book a Broadway show that summer and then the rest would be history. Deep down inside I never really thought I could, but I always believed Augie could. He was such a talented man.
When the Autumn approached, Augie's sublet was up and he went back to California. I stayed awhile longer until the day I found myself doing my laundry in the bathtub of another basement sublet because I was too broke to afford the machines at the laundromat. Tail between my legs, I went back to California and Augie was there to greet me at the airport in his little turquoise Fiat convertible. I made him a vow, to never go back to New York to live. Visit? Sure. Many times. Live? Nope. Never. Never, never, never… I was going to change the world of theatre in my own backyard. Or do backyard theatre. That would be fine. He said, "Awesome, I have a big yard." He did, too.
At any rate, here I am in quarantine without my mini trampoline doing my laundry in the bathtub again. Only this time I'm doing it because some of the people in my building, the same people Caryn and I share a laundry-room with, don't wear masks, don't keep six feet away, don't think there's anything to fear but fear itself. So, those of us who are scared shitless, do our drawers in the sink, or the tub, or a plastic bucket. And then we hang it all over the apartment to dry. It's a great workout for your arms, I might add. My point— I never used my mini trampoline, so I gave it away. I'm really dreading that decision today. It was great for drying sweaters.